As of April 2022, Worldnet Payments is now part of the Payroc family, helping ISVs worldwide solve complex payments problems and unify their payment channels in a single, powerful platform. Payroc, a global payments leader, serves more than 125,000 merchants in over 45 markets.
Best Unattended Payment Gateways: 5 Things to Know
Before anyone had even heard of COVID-19, consumers were enjoying the speed and convenience of self-service transactions. Now, it's expected everywhere: Nearly 50% of consumers won't shop in a store that doesn't offer contactless payment options.
Self-service is fast, easy and convenient for customers—and highly profitable for retailers. The question isn't if you're going to offer unattended contactless payment options, it's when.
To be successful and cash in on everything this rapidly growing market has to offer, you'll need to choose the right unattended payment gateway partner. But it's not a choice to make lightly.
Some gateway solutions may appear to be the perfect fit … at first. But hidden fees and technology limitations could be barriers to future growth. And most gateways make it difficult to switch to another solution provider.
At Worldnet Payments, we're problem solvers, and we want you to get the right integrated payment gateway solution for your business—whether it's ours or one of our competitor's.
This guide evaluates the top unattended payment gateway partners based on the five most important decision criteria.

There are many payment gateway providers for your business. Choosing the right integrated payment solution matters. (Source: The Strawhecker Group)
Top 5 Criteria for Choosing the Right Unattended Payments Gateway
Here's how the most popular gateways measure up.
Cost
When it comes to payment gateway solutions, the adage "you get what you pay for" applies. Therefore, your cost will dramatically depend on what you want and need.
For some retailers, a less expensive out-of-the-box solution fits their needs, while others need more functionality or the flexibility to accommodate growth—which typically increases the cost.
Gateway pricing varies from flat fees to interchange-plus fees, so it's important to know your average transaction amount, number of monthly transactions and future goals to make sure you get an accurate quote. The last thing you want is to think you're getting a deal for your payment processing fees, only to find out your gateway partner charges extra for functionality or sales growth.
Let's look at how some of the top gateways are priced.
Gateways With Low Initial Costs
Out-of-the-box gateways like Authorize.net and Stripe feature a lower initial price and work well for retailers with a basic website and little to no customization.
Authorize.net starts with a $25 monthly flat fee, regardless of usage. On top of that, payment processing is priced based on the plan you choose. Stripe has no monthly fee, and you "pay-as-you-go" at one rate for U.S. cards and another rate for European cards.
Both offer volume discounts, multi-product discounts, interchange pricing and country-specific rates.
Equipment-Dependent Gateways
Both NAYAX and Cantaloupe offer less expensive card processing equipment and lower-priced gateway fees. However, businesses are restricted to using only their proprietary card processing equipment and we know that in payments one-size never fits all.
For both the out-of-the-box and equipment-dependent gateways, any additional services or functionality incur additional fees.
Competitive Pricing for More Customization
Businesses that need or want customization or room to grow may want to look at CardConnect, NMI, and Worldnet Payments. All three offer varying levels of customization.
Worldnet takes this a step further with transparent pricing and consolidated billing that includes all channels on a single platform. Businesses know exactly what they'll pay with no hidden or extra fees.
Gateways that offer extensive customization may not be the least expensive, but retailers that are rapidly expanding often find the scalability and flexibility delivers a much better ROI: There are big benefits to long-term solutions and partnerships that adapt to your growth and business needs.
Integration
Your payment gateway must integrate with your website platform, your invoicing software, and the other systems and platforms within your infrastructure. And your payment process and customer experience depend on those integrations being as seamless as possible.
Many companies don't have the technical expertise to create something like a highly customized checkout page. So, they have three choices:
Pay additional fees to have their payments gateway do the coding.
Pay for outsourced technical resources.
Choose a payments gateway with the type of modern interfaces that make those integrations easy.
Similarly, device integration is something to consider. NMI supports a single device on iOS and Android, as well as Windows and Linux integrations. NAYAX and Cantaloupe integrate only with their own devices. Worldnet, on the other hand, has more flexibility and is device- and integration-agnostic. We offer EMV Pre-Certified POS Terminals from ID TECH, Ingenico, PAX, BBPOS and connect to over 65 processors and acquirers.
Another factor to consider is reporting. Make sure your gateway integrates all your data sources together so you can get a complete picture of your sales transactions, whether they involve a physical credit card or card-not-present or contactless payments.
When all that information is pulled into a single dashboard, you can conduct a full analysis of the data to see payment trends and issues and determine if your business is on track to achieve its goals.
Adaptability
Business is moving and changing so quickly, it's critical to have a solutions partner who can keep up.
What's even better? Having a solutions partner who's already right there with you, asking the questions to help you figure out exactly which functionalities and features you need right now—and will need in five years.
All the gateways we've described here can accept the full range of payment methods, from credit card swiping, dipping and tapping to contactless payments and more. So to decide which one is best for your business, you must look at how your business is structured and what you want to deliver in your customer experience.
For instance, some businesses wish to focus heavily on omnichannel capabilities and unifying these journeys across e-comm, in-person, unattended, in-app, and mobile POS. Our team is particularly experienced in creating a seamless customer experience across all channels—from self-service kiosks to mobile POS for line-busting to mobile apps for curbside pickup and delivery orders on your website. Using session tracking and tokenization, a single customer and payment method can be recognized on each channel.
Encryption and Key Ownership
Your customers expect their transactions to be secure and PCI-compliant, but that's just the start.
Gateways have to meet a minimum encryption standard that involves end-to-end encryption and tokenization, where each transaction is individually secure. This helps minimize fraud exposure.
Each gateway evaluated in this article uses a high level of encryption to protect customers and their transactions. NAYAX and Cantaloupe require the use of proprietary devices and the "key" that drives the encryption process.
Similarly, most of these gateways require businesses to use encryption keys that are tied to the specific processors or the equipment the gateway offers. Why? Because the process to change that key on each device is expensive, time-consuming, and often a deterrent from migrating to a different gateway solution.
With the Worldnet Payments gateway, businesses can use the proprietary encryption key or own their key. This allows them the freedom to upgrade devices and even migrate to different platforms. While a platform migration is a major initiative that should be carefully undertaken, having the option to migrate may still be important to your business. Worldnet Payments is one of the only gateway solutions that offers this choice and is one of the reasons that the total cost of ownership can be lower in the long term.
Customer Support
Finally, this industry is all about relationship building and getting access to a human when you need it the most. You'll need to consider the level of customer support and the reputation these gateways have in the marketplace.
All payments gateways have some level of customer support that businesses can access during downtimes and when they have technical issues.
In today's culture of instant gratification and edification, that means more than looking up an answer online. Outages and some issues require the intervention of a live person.
Worldnet Payments is known for its customer support and relationship building, offering human, helpful onboarding and support throughout the entire relationship. Whether that's through a simple email, phone call or slack message our team is quick to respond and get your problem resolved.

Steve's not alone in his opinion. Leading (and growing!) businesses rely on Worldnet Payments as a trusted partner who helps them navigate the world of contactless payments—and delight their customers.
We help these leading brands integrate their payments solutions.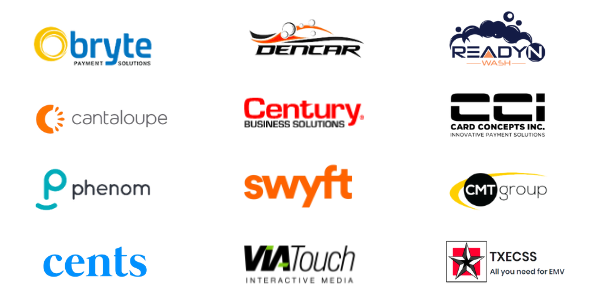 At Worldnet Payments, we have solutions for your unattended payments needs, and we strive to get your business up and running as quickly and efficiently as possible. Let's get your business ready for the future of payments. Contact us today to learn more.