As of April 2022, Worldnet Payments is now part of the Payroc family, helping ISVs worldwide solve complex payments problems and unify their payment channels in a single, powerful platform. Payroc, a global payments leader, serves more than 125,000 merchants in over 45 markets.
Worldnet Payments & TEAMSable Partner to Provide Contactless Payment Solutions to ISVs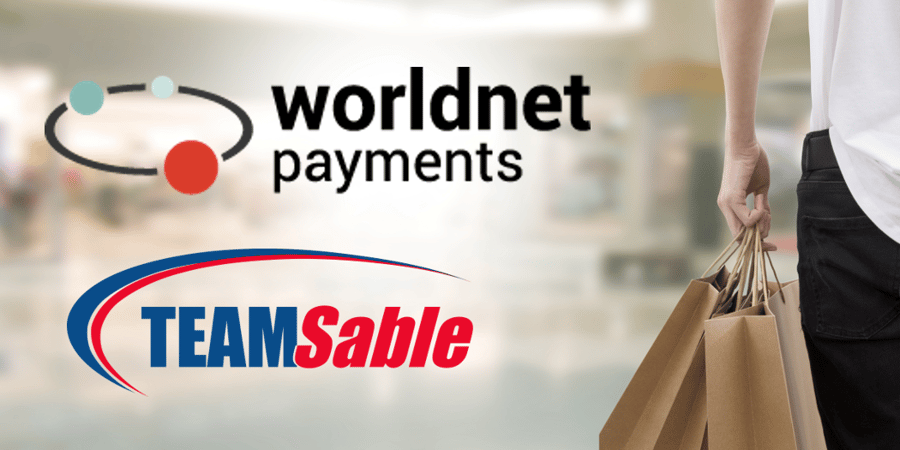 Contactless payments were once a nice-to-have feature which has now turned into a need-to-have vital component. This year 60% of Visa's US card volume is flowing through contactless-enabled POS terminals. Even prior to the COVID-19 pandemic, 46% of consumers say fast, convenient payment and checkout options would increase their loyalty to a merchant. 70% of consumers who are new to contactless payments report they will continue to use this payment method after the pandemic.
The benefits of contactless payments have been lauded far and wide over the years and they have not been more relevant than during these uncertain times. In light of COVID-19, consumer demand for contactless payment has grown significantly. The most pertinent aspect is that contactless payments are more hygienic and safer than cash. It is fast and convenient for both the merchant and consumer. Contactless payments enable customers to meet where they are, payment flexibility and the customer has full control.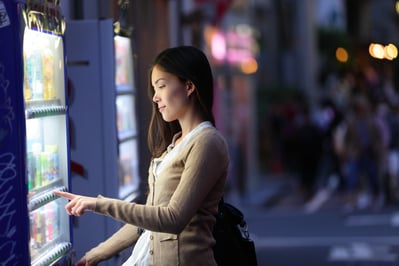 Worldnet Payments and TEAMSable collaborated with ID TECH, a leading payment peripheral provider, whose VP8300 provided the perfect "solution bundle" that checked the requirement boxes for value and easy integration, while seamlessly supporting EMV, Contactless and MSR payment capabilities for ISVs. The demand for a quality point of sale (POS) hardware system that can easily integrate EMV payments and consequently contactless payments, is higher now than ever before. This demand is generated by independent software vendors (ISVs) and system integrators (SIs) looking for a POS system hardware solution that will not only take their software "out of scope" but is also best-of-breed, retail-hardened, and competitively priced. The collaboration between TEAMSable, Worldnet Payments and IDTech offers a perfect hardware bundle solution that checks all the requirement boxes for value, easy integration, and EMV payment versatility.
The TEAMSable 12N Android touchscreen POS terminal (and accompanying peripherals), bundled with ID TECH's contactless VP8300 EMV payments terminal powered by Worldnet Payments is the ideal bundle for POS & payments industry ISVs. Worldnet's GoChip SDK is EMV® certified with major processors and provides Integrated Contactless/NFC and EMV® options. This package has been thoroughly tested and certified to work and provide a hassle-free, EMV certified payment POS system for retail, hospitality, QSR, logistics, and many other verticals. This collaboration is the ultimate POS system/EMV payment solution for ISVs to quickly and effortlessly integrate and deploy a bundle backed by industry-leading brands that deliver stellar after-sales support, service, and value.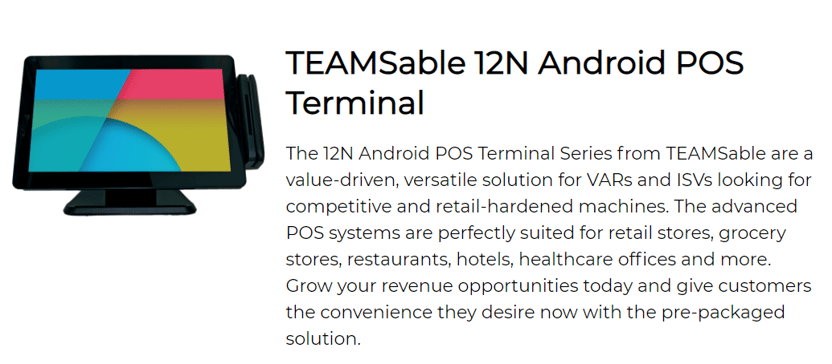 For more information on this or any of our other variety of solutions, please click the button below or fill in the Contact form on this page and we can help you get started today!