As of April 2022, Worldnet Payments is now part of the Payroc family, helping ISVs worldwide solve complex payments problems and unify their payment channels in a single, powerful platform. Payroc, a global payments leader, serves more than 125,000 merchants in over 45 markets.
The ISV Guide to Choosing an Integrated Payment Solution
Independent Software Vendors are experts in building software that solves their customer's unique needs but when it comes to payments, things can get complicated. It's painful when ISVs have to deal with multiple integrations, distributors, processors, hardware providers, and payment gateways.
An omnichannel or integrated payments solution is a comprehensive solution for payment processing. This integrates all of your payment processes and unifies your payment data, giving you a single and insightful view of your customer interactions. With the right partner, you can easily offer multiple payment options for a unified customer experience that's engaging, personalized, and consistent across any channel.
Here's a quick guide ISVs can use when choosing the right integrated payment solution for years of successful partnership.
What payment solutions are you looking for?
Self-service | In-Store | Kiosk
Ensure your partner enables secure acceptance of all payment methods—including EMV, MSR, Contactless, Quickchip, Google Pay, and Apple Pay.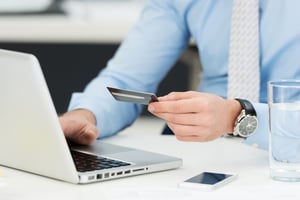 You'll need to create a seamless checkout experience on your website. Make sure you've got plugins to the most common eCommerce platforms or the ability to build an enterprise solution by integrating to a RESTful API.
Whether it's iOS, Android or In-App payments, check for an SDK that's developer-friendly and allows you to integrate with different card readers to accept mobile payments with EMV, swipe, digital wallets, or contactless options.
What pre-certified devices are available?
Check for Attended and Unattended EMV Certifications and ensure you'll have access to hardware that supports every environment, from pre-packaged units to OEM peripherals that fit into any molding, plus ruggedized units for outdoor use.
What processor connections are available?
Flexibility is key and you'll want to make sure you've got access to the most popular acquiring processors — including Fiserve/FirstData, TSYS, Global Payments, Heartland, Bank of America Merchant Services, Elavon, Worldpay, Paynomix, Citi, and Chase.
What are the cost and fee structures?
When it comes to payments partners, you get what you pay for. Look for a payment partner offering premium service including access to a blend of technical and strategic support, and in-house experts who continuously work to optimize your payments revenue.
How will your merchants benefit?
Your merchants need built-in efficiencies, streamlined onboarding, automatic reports and insights, training, and support to get started. They also need a variety of processor and acquirer options that allows them to chose the most cost-effective provider.
What will the integration look like?
Look for a partner with integration options available such as Windows, Linux, PHP, C++, .Net, Java, and mobile app integrations for iOS, & Android. Get a sandbox account and explore their SDK, APIs, Docs, and other high-utility resources that will help you speed through the integration.
What about security measures?
By choosing the right payments platform you can simplify your PCI-DSS journey and reduce expensive PCI audit requirements with Secure Card tokenization and end-to-end encryption. Look for a Level 3 EMV certified SDK where you can store, process & transmit payment data more securely.
With over 15 years of experience, Worldnet is the integrated payments solution and gateway of choice for leading ISVs. With one integration you can accept all payment types, reduce the number of suppliers, streamline processes, and drive payments revenue.
Let our team of experts help you discover how our solutions provide added value not just for software vendors but for merchants and end-users as well.
Schedule a consultation with one of our payment experts to learn more.