As of April 2022, Worldnet Payments is now part of the Payroc family, helping ISVs worldwide solve complex payments problems and unify their payment channels in a single, powerful platform. Payroc, a global payments leader, serves more than 125,000 merchants in over 45 markets.
VICKI and the Contactless Revolution
Contactless transactions are now a standard across the world as they allow customers to simply tap to pay with a contactless card, mobile phone, or payment-enabled device. In the past, the U.S. has lagged in adopting contactless technology with less than 5% of the county having activated NFC terminals. That's about to change!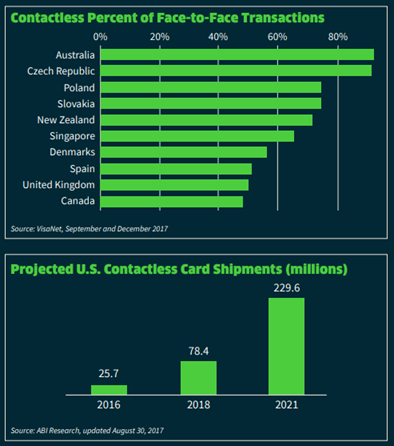 However, the arrival of the novel coronavirus (COVID-19) has created a push where, throughout the United States, businesses are strongly looking to upgrade terminals with contactless payments to enhance touch-less interactions for customer health and safety. In addition to promoting safety by limiting person-to-person interaction at checkout, EMV contactless transactions are also more secure than traditional mag-stripe transactions.

Countries and card brands around the world are increasing their transaction threshold for contactless transactions to encourage consumers to pursue a safer way to purchase goods. As a result, the payments industry is seeing an increase in contactless transactions and a push for cashless options on all payment environments such as retail and unattended.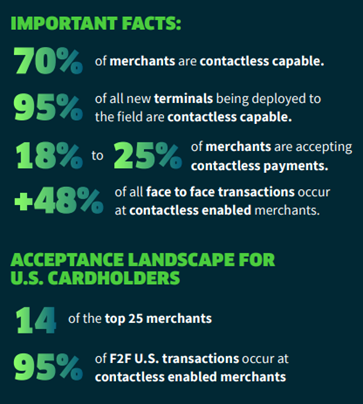 Contactless payments and banking services make for a quicker, cleaner, and more convenient way to pay and manage bank accounts remotely. According to this MasterCard survey, 51% of Americans are now using some form of contactless payment. This figure compares to just 0.6% as highlighted by this 2017 Visa study. There is an increasing demand for this form of payments from a nice-to-have feature, to a must-have feature.


The Unattended/Automated Retail sector has seamlessly incorporated contactless payments into its business model and the benefits are paying off. An Unattended retail machine provides high-cost or low-cost products, from Best Buy kiosks in the airport which dispenses headphones and other electronics, to standalone machines at grocery stores that provide drinks and snacks.
With the adoption of cashless payments and the necessity to electronically connect to a back-end to process payments, unattended retail machines now can develop additional services and customer support options while promoting contactless safety protocols.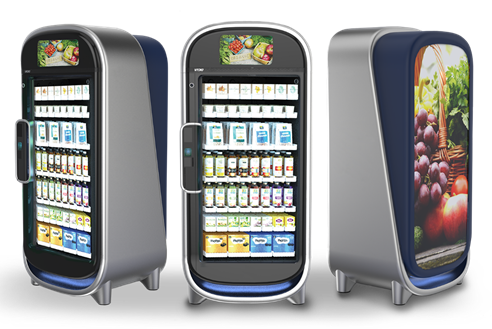 VICKI is an innovative answer to the Contactless Retail trend from kiosk industry experts ViaTouch Media, Inc. VICKI is an AI-Powered Smart Store offering a touch-free, self-checkout and unattended retail experience. Ahead of its time, VICKI is a virtual attendant that can answer product-related customer questions. It also can arrange for advanced product pick-ups and is easily customizable for differing product shapes and sizes. Even more, VICKI promotes social distancing and has COVID-19 virus-killing technology that uses UV-C lights to routinely clean products and interior surfaces for a period of 90 seconds after each customer use.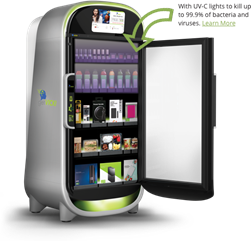 VICKI incorporates ID TECH's VP3300 OEM with Worldnet's GoChip SDK as well as a multitude of other innovative features. ID TECH's VP3300 OEM allows secure and reliable NFC transactions in an unattended environment while Worldnet's GoChip solution is a software framework that allows flexible integrations into the customer's payment solution.

VICKI makes use of Worldnet's end-to-end encryption to allow for the highest security measures to protect the cardholder as well as the merchant. The merchant will not need to worry about security or PCI Compliance as this is part of the Worldnet end-to-end solution.

This pre-certified GoChip SDK is flexible and allowed the ViaTouch developers to customize around the point-of-sale. This bespoke method allowed them to run the program in their own environment. The GoChip SDK is versatile as it is easily integrated and fully customizable to the ViaTouch brand and aesthetic. It is a plug-and-play solution that allowed Worldnet to take care of the payments piece whilst freeing the merchant to have full reign to create/update everything else, as is the case with VICKI.

VICKI has a polling feature enabled which means that the ID TECH VP3300 OEM device that is integrated within it is always activated and ready for a transaction. There will be no need to push a button to start a transaction as all the customer needs to do is present their card to the payment terminal, choose the item they want and it will automatically be charged to their account. This is the epitome of a fully contactless transaction.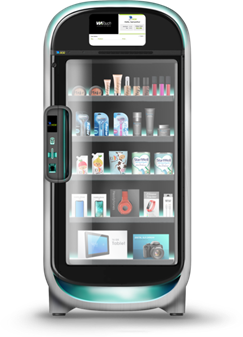 VICKI offers multiple biometric payment methodologies as well including iris and thumb scans. After inserting a credit card, customers are given an opportunity to make an account by scanning their thumb for seamless future transactions. When using the machine again, they only have to place their thumb on the scanner for access and VICKI will recognize them. Once they have signed up with a payment card, a thumb or iris scan can be used to make any subsequent transactions at any VICKI machine.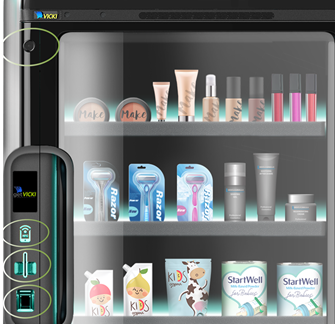 Customers can also pay using their Apple Pay or Google Pay accounts to make transactions as quick, seamless, and contact-free as possible. If the customer's card currently does not have contactless capability, they can still add it to a mobile wallet, such as Apple Pay or Google Pay, to complete a contactless transaction. Customers can tap to pay in seconds with no contact, allowing for an easy and safe experience at checkout.

VICKI uses an advanced combination of AI, Computer Vision, Machine Learning, and a patented Intelli-Shelf hardware (called sensor fusion) to combat theft in retail. An additional layer of security can be added by requiring customers to join the VICKI Verify Program before shopping. VICKI's innovative security features have already been used by multiple stores across the United States to prevent the theft of high-value products.

On registering a card, the merchant is provided with a Secure Card number which they can use in place of the actual card details. The Secure Card number can be stored on the merchant database without any PCI security implications and is automatically accessed to generate the pre-defined installment or subscription payment. In VICKI, the Secure Card feature allows customers to make subsequent purchases without having to re-enter card details each time. This also allows for subscription-based payments which could be used for any loyalty scheme that the customer is part of. The merchant can retain cardholder details without the overhead of managing their own PCI compliance whilst also facilitating recurring transactions safely.

As the world is still grappling with the implications and fallout from COVID-19, more and more businesses are stepping up to move forward with safety precautions that promote customer health and wellness. Companies are embracing NFC options in the retail, unattended and various other environments to increase customer safety whilst maintaining customer traffic. Investing in contactless now lays the groundwork for the next generation of payment technologies. VICKI is an incredible combination of innovation, intelligence, and adaptable security measures which checks all those boxes.

COVID-19 has pushed contactless payments to become a more frequent part of people's lives, accelerating the pace of cash displacement around the world. Investing in contactless technologies is the safest option to future-proof a business in an uncertain climate. The combination of ID TECH, Worldnet, and ViaTouch Media's VICKI services has culminated in a product that embodies high-value retail whilst also keeping the safety and success of their customers in mind.
About Worldnet Payments
Worldnet Payments develops frictionless payments solutions for independent software vendors. The company's omnichannel platform is used to deliver expert solutions in industries such as unattended retail, transportation, and services. Worldnet's flexible approach enables businesses to deliver a customized payment experience to their customers, including tailored workflows, branding, and centralized reporting and analytics. The highly scalable cloud platform provides an advanced range of EMV®-enabled products and services across channels including eCommerce, Mobile, PoS and iPoS.
For more information, visit https://www.worldnetpayments.com or follow us on LinkedIn, Twitter, or Facebook.
About IDTech
ID TECH has established a solid reputation in the industry as a leading payment peripheral provider with magnetic stripe, EMV contact, and EMV contactless expertise. We are also an OEM payment solution provider with the capability and willingness to customize solutions to fit our customers' needs. With a strong foundation and continued success rooted in card readers, ID TECH is currently expanding its reach in the ever-evolving payments industry.
For more information, visit https://idtechproducts.com/ or follow us on LinkedIn, Twitter or Facebook.
About ViaTouch
ViaTouch Media is a software technology company focused on delivering solutions to disrupt the retail shopping industry. At the core of ViaTouch Media is the VICKI software platform. VICKI enables retailers to realize new revenue streams and reduce operating expenses while leveraging rich data analytics and advanced hardware peripherals. A group of entrepreneurs, designers, and engineers with over 50 years of experience in international marketing, innovative media, food service, and cutting-edge technology.
For more information, visit https://getvicki.com/